Broncho-Vaxom ® is an extract of different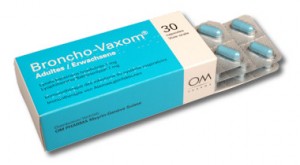 bacterial species frequently responsible of respiratory infections. It stimulates the immune system in order to increase the body's natural defences against a wide spectrum of respiratory pathogens.
Broncho-Vaxom ® prevents and/or reduces the severity of acute attacks of chronic bronchitis and recurrent infections of the respiratory tract, in particular sinusitis, rhinopharyngitis and middle ear infection, in adults and children.